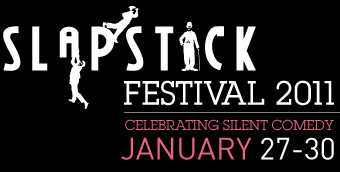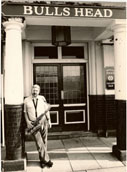 Wie in jedem Jahr findet auch 2011 in Bristol/England ein Filmfestival statt, das sich ausschließlich Stummfilmen widmet. In diesem Jahr sind wir mit unserem Filmmusikprojekt zu diesem Festival eingeladen worden. Am Freitag, den 28. Januar sind wir "Special Guest" beim Höhepunkt des Festivals, der "Slapstick Silent Comedy Gala" (http://www.slapstick.org.uk/gala-event.htm).
2 Tage später sind wir in "The Bull's Head" (www.thebullshead.com), einem renommierten Jazzlokal in Barnes/London zu hören.
——————————————-
Slapstick Silent Comedy Gala
with very special guests
A star-studded evening of classic comedy and live entertainment with special guests
Bill Oddie, Ian Lavender, Barry Cryer, Neil Innes & Paul McGann. This unique event presents four living national comedy icons introducing four classic silent comedy shorts on the big screen from the five masters of silent comedy accompanied live by Jazz Train – Saarland Youth Jazz Orchestra and The European Silent Screen Virtuosi. This gala is truly a once in a life-time opportunity to see the funniest silent comedy with some of our best loved British comedy performers, promising to be bigger, better and funnier than ever.
Early booking is recommended to avoid disappointment!
——————————————-
The Bull`s Head
Barnes/ London Slapstick 2011
JAZZ TRAIN – the Saarland Youth Jazz Orchestra at "The Bull´s Head", Barnes on 30 January 2011, 8.30 pm
The 25 young musicians in the band, aged between 16 and 21, will play pieces from their latest CD "JAZZ TRAIN plays Cole Porter". The two vocalists are Inez Schaefer and Laura Borchers. Co-bandleader Matthias Ernstarranged especially for JAZZ TRAIN well-known Cole Porter songs such as "Get out of town", "My heart belongs to daddy" or "Love for sale", but also less known titles such as "Give him the ohlala" or "What is this thing called love ?". His excellent arrangements have an ageless quality, gripping and full of swing. The album was recorded by the Saarland Broadcasting Corporation in spring 2010 and will be available on the night at "The Bull".
The band will, of course, also be performing music by other composers.
JAZZ TRAIN was founded in 1989 and has been "under steam" ever since, introducing young people to big band music and raising the profile of jazz in general. Already ten generations of young, talented players in Saarlandhave risen through its ranks. Many of the musicians have gone on to study music and some have already turned professional. Numerous awards, four CD albums and concert tours in Germany and abroad are testimony of the success of this Saarland project run by the two music teachers, Matthias Ernst and Ernst Urmetzer.